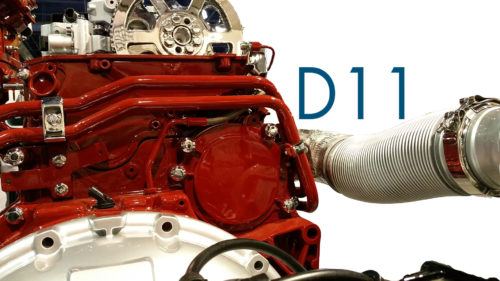 New Engine PTO for Volvo D11
Reinforcing our commitment to offer the most comprehensive range of PTOs of the market, we are about to launch a new PTO for Volvo D11 series engines.
Volvo Penta D11-725 is an in-line 6-cylinder, 10.8-liter diesel engine using unit injector, overhead camshaft, and a twin-entry turbo using a water-cooled exhaust manifold. This strong and highly efficient engine offers excellent reliability, long action range and low emissions. Engine PTOs have a reduced number of moving parts, offering superior efficiency and durability and increased reliability during operation.
As the power comes directly from the engine, the auxiliary hydraulic system can be used with both the vehicle running and stopped, making this power take-off especially suitable for use in applications that require continuous operation, such as refrigerated trucks, sweepers, etc.
With this new power take-off, the range of Engine PTOs is completed, joining the existing 13 and 16-liter VOLVO engines PTOs, which already have a great acceptance in the market.
For more information, please contact our
commercial department
under the code 7028804.
Bezares SA
Source: https://bezares.com/new-engine-pto-for-volvo-d11/