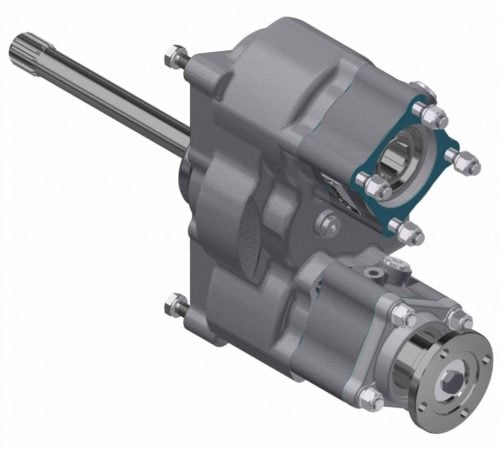 Dual Output PTO for ZF TraXon transmission
Bezares, under its continuous improvement program for products and production processes, puts at your disposal a new version of its double output PTO, available with a 1:1.6 ratio since 2017, for the popular Traxon gearboxes, now with an 1:1.95 internal ratio of in both outputs.

The new 1:1.95 internal ratio makes it possible to mount smaller and lighter pumps, which generates lower torque and allows the hydraulic equipment better work conditions. This also reduces engine revolutions, directly reducing fuel consumption and CO2 emissions into the atmosphere.
Bezares will continue to expand its line of power take-offs and hydraulic equipment according to market demands and suggestions from our customers and commercial distributors.
The new double output PTO for Traxon gearboxes with a ratio of 1: 1.95 is now available with the codes: 1032950, 1032951, 1032952 and 1032953.
For more information, please contact our Sales Department.
Bezares SA - Leading hydraulic manufacturer
Source:
https://bezares.com/dual-output-pto-for-zf-traxon-transmission/